The Scooters - Where Did It All Go Right?
Where to begin? Perhaps the first gig, in the backroom of Cardiff's legendary Royal Oak pub. You could go back further, to the day that Anthony, Chris and Bob asked Tim to drum along to a couple of tunes, creating the band in the process. You might choose to pick up the story a couple of years later, when Tim's brother Simon joined up, adding his Hammond warmth to an already unmistakable band sound. You pick for yourself. The Scooters don't really care. They're not in the habit of looking back themselves.
I picked up the thread in December 1998. I was looking for something new, something vibrant, something that actually meant something. The Welsh music scene as a whole was feeling a bit stale. The people were crying out for a fix of red-blooded Rock and Roll, but could only find imitation and regurgitation. The Scooters were a revelation. On a rainy Boxing Night in Cardiff, they played as if their life depended on it. A rhythm section so tight it could hardly breath, harmonies tossed off with a swagger so perfectly timed, it hurt. And they actually looked like they wanted it, needed it, lived for it as much as the audience. Not a bad place to start, I guess.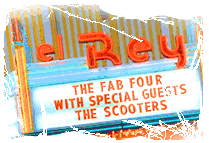 The band themselves don't seem to have ever come down from the high that they created that night. They seem to enjoy scaling new heights just to show everybody else how it's done. Like a Rock and Roll dream come true, they've got a resume that proves they've paid their dues. Played the Viper Rooms? You bet. Collaborated with the New Radicals? Well, it seemed rude not to. Had Diana Ross turn up to a gig in LA? Well yes, actually. As the BBC documentary of their last American tour attested, wherever The Scooters play, they leave an audience of willing converts. Their sheer musical ability is as infectious as their enthusiasm. Their debut album, Peepshow, premiered at an emotional Cardiff homecoming in late 2000, showed that they could cut the mustard in the studio as well.
Since then, The Scooters have toured the States again. They've been playlisted by BBC Radio 2 and American College Radio. They've played the CMJ Music Festival. Most importantly, they've continued being themselves, resisting the temptation to stray from their musical ideals in search of five minutes of fame and a quick buck.
So what now for Cardiff's finest? 'A dirtier, scruffier version of The Beatles' said one LA journalist. 'Set to bring a smile to the UK as a whole' said Melody Maker. Music Connection magazine mused. 'Why The Scooters have not been signed yet is anybody's guess'. The band themselves, though, probably don't even have an opinion. They know by now that their time will come. Besides, The Scooters aren't in the habit of looking back themselves. And with a future as dazzling as theirs, who can blame them?
Luke Holland
Resident Arse-licker!